Swedish - Deep Tissue - Myofascial Release - Thai
The MELT Method
Tuesday - Saturday 10-7;  Monday by appointment only
*Cash, check, plastic, HSA cards, and some health insurance plans are accepted.*
*10% off for seniors (65 and over) and students *
Upper Body Massage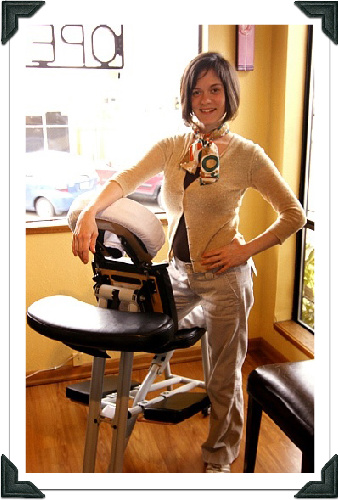 Do you carry all your stress in your neck and shoulders?  Want to relax but don't have much time?  Lighten the weight of the world with 30 minutes in my massage chair.  It's a quick and easy way to keep your upper half in tip-top shape!  (Can also be done during color processing.)
$35/30 mins
 Full-Body Massage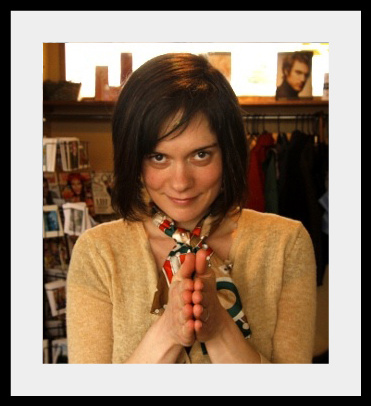 When you need the comfort and care of a full body massage, join me upstairs and enjoy soothing music, organic products, and expert touch. After consulting with you, I will create a relaxing and therapeutic treatment specific to your needs. Choose between the table or the Thai mat. To determine which one is right for you, read below:
Swedish Table Fusion:
For a fun twist on the classic table massage, try my unique house-blend of Swedish, Deep Tissue, Myofascial Release, and Thai.  Relaxing, reviving, stretchy, and delicious.
60 mins .............. $75
90 mins .............. $95
120 mins ............ $115
Traditional Thai:
Thai massage is traditionally done on a mat, fully clothed. It is sort of like having yoga done to you, so be sure to wear loose, comfy clothes. The session is comprised of acupressure, joint mobilization, and deep stretching. If you need complete refreshment for your body, mind, and spirit, try Thai!
60 mins .............. $75
90 mins .............. $95
120 mins .............. $115
The Wrap 'n Nap
A 90 minute table massage just for your skin.  Enjoy an hour of Swedish massage with a special blend of moisturizing lotions and essential oils, then drift off to sleep during a half hour steam wrap while I massage your head, neck, and face.  You'll leave feeling soft as silk!
90 mins .............. $115
Hot Stone Massage
A soothing 60/90 minute table massage with the penetrating heat of smoothly polished river rocks.  Perfect for loosening stubborn knots, melting scar tissue, and thawing out from the winter chill.
60 mins ............... $90
90 mins ................. $110
The MELT Method
Learn how to use a variety of gentle foam rollers and mindfulness to treat yourself at home!  Private sessions offered here at the salon; weekly group classes offered off-site but close by.  Visit www.meltmethod.com for more details.
30 mins ................ $40
60 mins ................. $75
Motor Vehicle Accidents
Have you been in a wreck recently?  Massage can be very helpful in dealing with whiplash and other collision-related strains. Ask your doctor if a prescription for massage is right for you!
Testimonials
Loves the location and Maggie did an amazing job on my feet.  That foot massage felt incredible and I told my husband that I'm taking my 50th Avenue Salon break monthly.
Kay Bejarana
The staff is professional and always listens to me.  50th Ave. Salon is a place to relax, be pampered and know you'll  look and feel great when you leave!
Louise Gillis
50th Avenue Salon is a place you won't visit just once. Whether you have your hair cut, colored or styled, you will be back!
If you have a manicure or a pedicure, you will return for another one, and will have probably recommended a friend in between your appointments!
If you have a massage, you'll want to return for another one!
All services are rendered by a friendly, very skilled,  and professional staff.  Great atmosphere, and great location!
Debbie VanAcker : )